Finally went to Haidilao after only ever having bought their hot pot soup bases to have at home. We were a little hesitant as it's Covid times, but reading the reviews, a lot of people spoke favourably of the protocols there.
To be frank though I don't even want to talk about my experience. I want to talk about what Haidilao stands for in China.
If you've ever been to hot pot, you're probably accustomed to a big steaming pot of broth in front of you in which you can cook whatever you order directly. Many places offer all-you-can-eat for hot pot since it makes a lot of sense to just dip whatever you feel like eating into the hot soup. But there are a lot of premium places where you order a-la-carte. Haidilao is an a-la-carte place.
With its premium pricing comes a variety of services in China. In what other dining setting would you be offered manicures, massages, and shoe shining, for free—as long as you'll be dining there. Of course, these aren't offered in the same place as the eating area, but there's a separate waiting area for these services.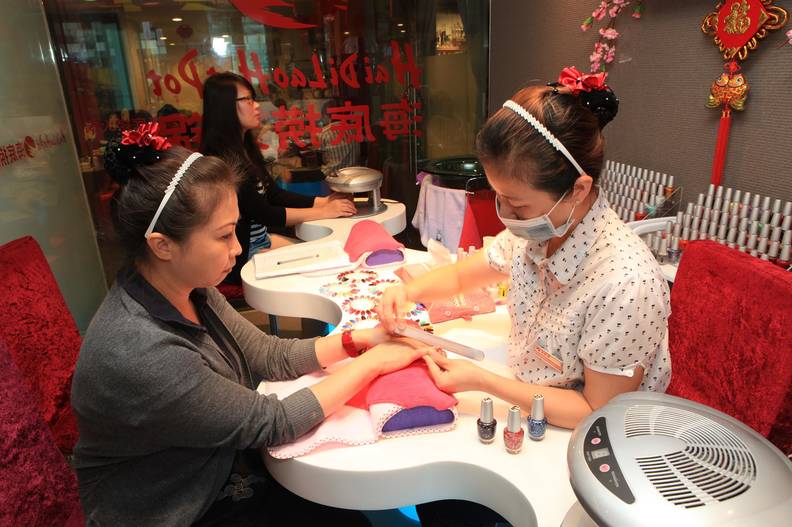 Haidilao is known in China for being really busy. You're expected to wait an hour before you can get a seat. But no one minds! As you wait in line, you're treated to a variety of services. You can select one of their board games to play with your friends. You can get a fresh manicure. You can even get your car washed. You're probably hungry waiting for your table to become available, but don't worry: you'll have a free-flowing supply of snacks for you to enjoy as you wait.
In China, the Haidilao servers can help you peel your shrimp, provide you with a cot for your baby, and what more? They're opened 24/7. And if you feel lonely going to a hot pot restaurant at 3AM, that's alright: for patrons who feel lonely, they will place a giant stuffed teddy/toy across from you so you feel a little less solo.
There's a cap on how "good" hot pot can be. Whether you're at a 5-star restaurant boiling tofu in broth, or if you're at a 2-star one, it's not that different in taste. Haidilao's founder said: "I personally made sure that any guest who came through my door would return." He does so by standing apart due to the services provided at his restaurants. I think if I lived in China, I'd look forward to Haidilao not so much for the food, but more so for the experience I knew I'd be getting alongside it.
For my trip to Richmond yesterday, we knew how busy it can get so we went quite early. We ended up not having to wait, but once we sat down, our server opened up a drawer of amenities for us. She grabbed my sister a glasses wet wipe, gave us 4 zip lock bags to put our face masks, and asked if we'd like an apron to protect our clothes from any splatters. She then offered me a hair tie to keep my hair out of my face as I ate. Repeatedly during our meal, many servers came by to check on us. You're also treated to a noodle dance if you order their hand-pulled noodles, and I'm told that at times, they have a Chinese mask dance performer too.
In the waiting area, there was a popcorn machine, bags of chips, plum juice, and coffee to satisfy you if you had to wait for a table. While we didn't have to go through that, we took a bag of the chips to-go just for fun so we'd have a snack for the drive home.
While our experience in Richmond's Haidilao is miles away from what their China counterparts are doing, I can still say I felt very taken care of during our dinner. Maybe one day they'll open up their services even more—I mean, I ain't going to turn down a free neck massage anytime soon!